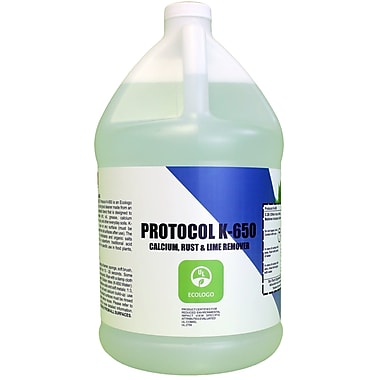 Protocol Cleaning Chemicals
Product Description
The Protocol line of chemicals are our first choice when it comes to dealing with unsightly dirt, grime and scale build ups on decks, in change rooms and in pool basins. The Protocol line is EcoLogo certified and formulated from organic salt bases, so its safe to use!
Application - K-300i
We recommend using K-300i to de-grease before de-scaling on pool decks, shower walls, and basins. Dilute at 1:20 and apply with sprayer or mop. Let stand 10-30 seconds and scrub lightly. Rinse with water.
Application - K-650
K-650 is your best bet for an everyday de-scaler. Best used for regular descaling of pool decks & shower walls. Dilute at 1:4 for light scale and use straight for heavier scale. Apply with sprayer or mop. Let stand 30-60 seconds, lightly scrub and rinse with water. *Don't let product stand on metal surfaces
Application - K-651
K-651 is a "heavier duty" de-scaler best used for pool shut down. This can be used straight to take care of heavy scale build ups and staining. Apply with sprayer or mop, scrub lightly and rinse with water. *Don't let stand on metal surfaces
Sizes
4L, 20L
Contact Us About This Product
Similar Products
Products similar or related: