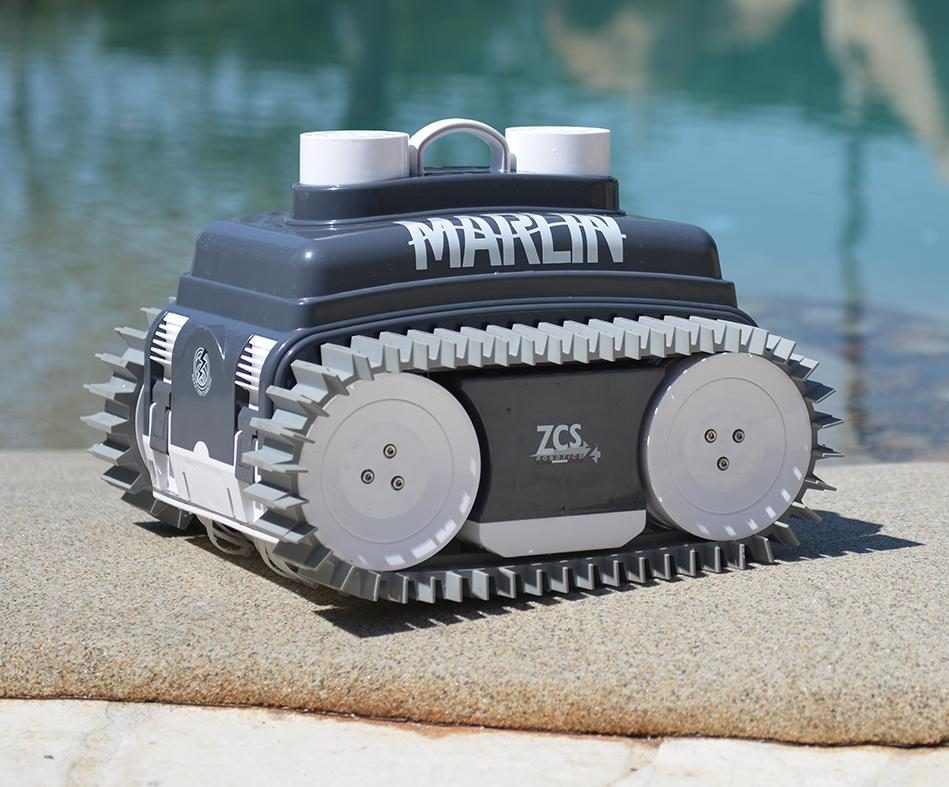 Marlin Vacuums
Product Description
A revolution in pool vacuums is here! Canada's first commercial cordless pool vacuum, the Marlin. Forget about your cord problems (tangled cords,  cords getting pulled out of the vacuum, cord wrapping around play features, etc.) …all of those problems are solved with the Marlin!
The Marlin goes like this:
Hang the wireless charger into the pool
Touch the Marlin to the charger as you release it into the pool
Walk away, and come back to a clean pool!
The Marlin is loaded with tons of great features:
Vacuum is completely wireless!
Sizes for 25 meter and 50 meter pools
Maneuvers over drain covers and even climbs/cleans stairs
Suitable for beach entry pools
Programmable cleaning time cycle
Programmable floor vs. wall cleaning time
Programmable speed
Self-charging. Wireless induction charger hangs over the pool wall and the Marlin docks itself to charge when the battery runs low. When its fully charged, it leaves the charger and starts cleaning again.
Simple set-up
Programmable via smartphone app
Diagnostic feature via smartphone app
Durable stainless steel filter
Communication box allows recall of the vacuum with one button push
Cart mounted option available
Permanently installed charger available for new construction.
Product Codes
M-MARLIN-MAD5Z1: Marlin Power (25 Meter Pools)
M-MARLIN-MAL5Z1: Marlin Super Power (50 Meter Pools)
M-MARLIN-CART: Cart w/ Mounted Charger:

Contact Us About This Product
Similar Products
Products similar or related: