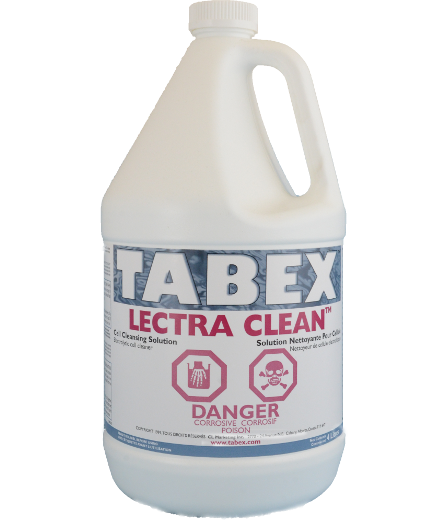 LectraClean
Tabex Products
Tabex offers a wide range of quality disinfection products, balance and specialty chemicals. Tabex Chemicals are manufatured in Canada and are widely used by operators in municipal, institutional, hotel and condominium facilities.
Product Description
Lectra Clean is a liquid product that is formulated to quickly dissolve scale, oils and organic debris from the blades of electrolytic salt water chlorinator cells.
Application
Lectra Clean is designed to be used full strength with no diluting or mixing required - Electrolytic cells can be soaked directly in the product. As the operator should avoid getting liquid on the cell pins/cord, it is ideal to soak the cell using a cleaning stand, shallow tray or cell plug. Cells should be soaked for 5-20 minutes, depending on the degree of foreign material that must be removed. Heavily scaled cells may require a second application with fresh cleaning solution. Contact our sales team for more detailed information on the application of this product.
Sizes
4 L
Case of 4x4 L
Contact Us About This Product
Similar Products
Products similar or related: