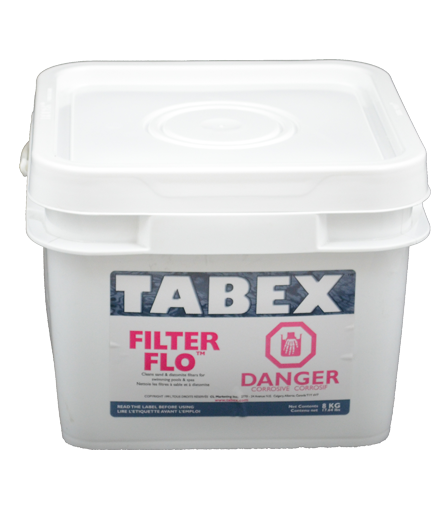 Filter Flo
Tabex Products
Tabex offers a wide range of quality disinfection products, balance and specialty chemicals. Tabex Chemicals are manufatured in Canada and are widely used by operators in municipal, institutional, hotel and condominium facilities.
Product Description
Filter Flo is a concentrated, granular cleaner designed for degreasing and descaling all types of pool/whirlpool filters. This product helps eliminate short filter runs, poor water quality, high chlorine demand and the potential for microbiological contamination.
Application
Dosage:  Dissolve 500 grams of Filter Flo per 20 Litres of warm water. Allow filter media, filter covers, or cartridges to soak for 12 hours before putting back into service. Contact our sales team for detailed instructions on how to best use this product with your filter system.
Sizes
8 kg, 50 kg
Contact Us About This Product
Similar Products
Products similar or related: