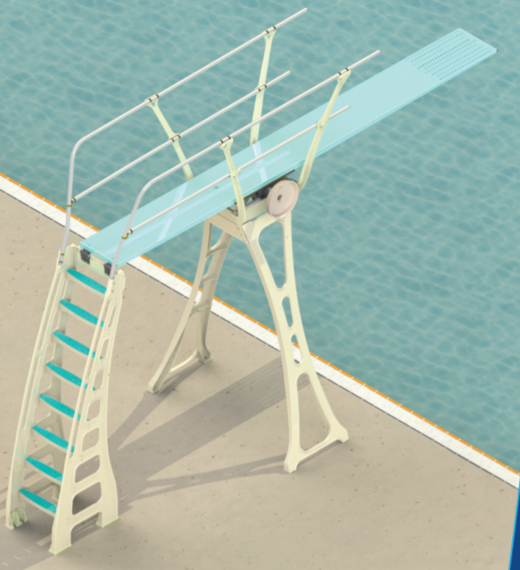 Duraflex Stands
Product Description
Duraflex stands are very established in the world of competitive diving, being the first choice of equipment from local dive clubs to international competitions. New stands can be installed at an existing pool without the need for costly excavation. 1M and 3M stand assemblies consist of a ladder, fulcrum and main support assembly. The major components are heavy duty aluminium castings with top quality epoxy powder coating.
The ladder assembly features wide, comfortable steps with replaceable slip resistant treads. Hard-anodized, forged aluminum hinges mounted to a heavy cast anchor plate provide the attachment points for Duraflex springboards. 1M and 3M stands ahve double stainless steel hand rails on both sides.
Short stands are also available, designed to mount on your concrete pedastal or platform. The short stand consists of an anchor base and fulcrum assembly. Stands are available with or without hand rails.
Warning: Pools with diving equipment must conform to minimum pool depth, overhead and basin profiles as per local building code and/or FINA standards. Consult your local safety codes office for more information. Ordering any new or replacement equipment acknowledges you have verified compliance for the intended or current installation.
Product Codes
70-231-300: Three-Meter Stand (Handrails on both sides)
70-231-400: One-Meter Stand (Handrails on both sides)
70-231-520: Short Stand (Handrails on both sides)
70-231-540: Short Stand (No Handrails)

Parts
PM110: Grease Gun (grease extra)
PM111: Mystik JT-6 Grease - 3 oz
C202: Hinge w/ aluminum bolts (complete - sold individual)
C203: Hinge Pin
C209: Nyliner
C210: O-Ring
515: Rubber Bumper
516: Anti-Rattle Clamp
517: Roller Block Complete
524: Roller Bearing
SF122: 5/8" x 3.5" SS Board Bolts w/ flat washers, lock washers and nuts (set of 2)
70-231-900: Bronze Anchor Casting (Includes 5/8" x 1" steel bolt for layout positioning). 6 required for short stands
70-231-905: Bronze Anchor Casting (Includes 5/8" x 1" steel bolt for layout positioning and 1/2″ X 5″ bolts for positioning in cement.). 8 required for 1M and 3M stands
70-231-906: Hilti inserts w/epoxy and dispenser (set of 8)
70-231-907: Hilti inserts w/epoxy (no dispenser) (set of 8)

Contact Us About This Product
Similar Products
Products similar or related: