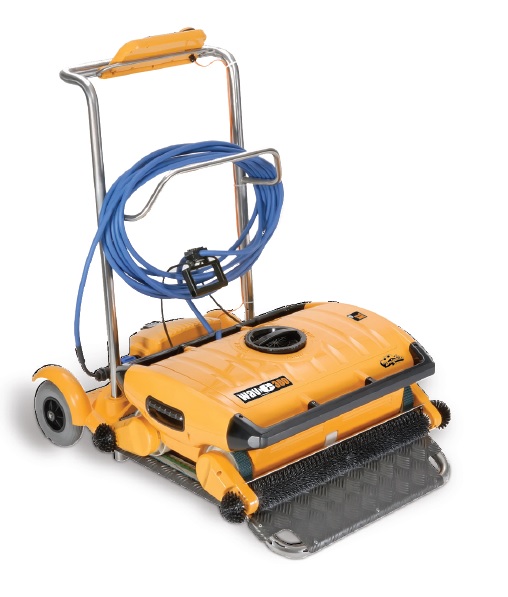 Dolphin Wave 300XL
Product Description
The Dolphin Wave 300 XL delivers top-of-the-line pool cleaning for large commercial pools and for Olympic centers, water parks and other sites with professional pools 25-60m (82-197ft) in length.
Designed to meet the challenging cleaning requirements of the biggest and busiest pools, Dolphin Wave 300 XL is packed with advanced features.
With its sophisticated, programmable scanning controller, advanced navigation system, active brushing, and high-capacity, multi-level filtration system, this highly automated robot excels at heavy-duty dirt collection and delivers the best end-to-end cleaning performance in its class.
It works efficiently and effectively in any large pool, regardless of shape or type, including beach entry pools and pools with sharply sloping floor
Full warranty on all parts for 24 months/3000 running hours
Cable length: 43M (140ft)
Features
Optimized water suction flow ensures efficient dirt collection, leaving a perfectly clean path.
Multiple scanning modes for optimized pool coverage.
Advanced navigation system – With – highly accurate gyro and compass that together ensure complete pool coverage even in irregularly shaped and pools with obstacles, regardless of the frequency of interferences.
MMI – interactive digital interface panel - with full filter bag indicator, operation delay, and modes of operation:
Automatic operation of "Drive to pool" and "Drive home" allowing easy operation, with minimal hassle.
Choice of programs displayed on a user-friendly LCD screen.
Cycle time cleaning mode allows scanning programs to be programmed for up to 4 different pools
Technician mode allows diagnosis and service at poolside via a built-in interface with USB connection.
Contact Us About This Product
Similar Products
Products similar or related: