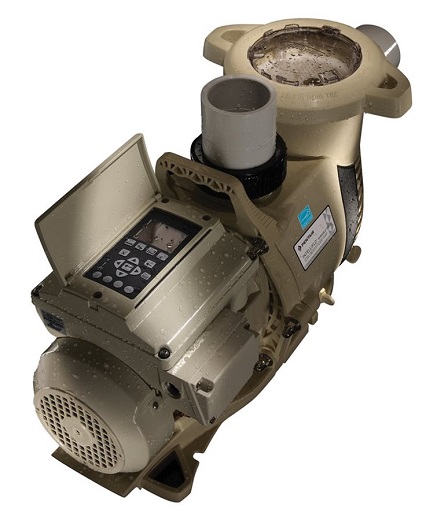 IntelliFlo & WhisperFlo Pumps
Product Description
Pentair's lineup of circulation pumps are well established in condo, hotel and municipal pools across north america. The innovative hydraulic design offers the high water flow with efficient electricity consumption. The trade off of the high flow output is they lose some self priming capacity when installed where a vertical suction lift is required. These pump are built to last and replacement components are readily available.
WhisperFlo connections are 2″ FNPT, the WhisperFlo XF includes 2.5/3″ unions connectors. The IntelliFlo versions of these pumps include all the same features but with the added value of an integrated VFD for fine tuning the pump output and maximal conservation of energy.
IntelliFlo 2VST and IntelliFlo XF have a keypad that can be rotated or wall mounted (optional wall mount kit sold separate).
Single Phase - Fixed Speed Motor
011578 WhisperFlo WF2 - 0.50 HP (115/230V)
011579 WhisperFlo WF3 - 0.75 HP (115/230V)
011580 WhisperFlo WF4 - 1.00 HP (115/230V)
011581 WhisperFlo WF6 - 1.50 HP (115/230V)
011582 WhisperFlo WF8 - 2.00 HP (230V)
011583 WhisperFlo WF12 - 3.00 HP (230V)
022013 WhisperFloXF XF12 - 3.00 HP (208-230V)

Single Phase - Variable Speed Motor
011059 IntelliFlo I1 - 1.00 HP Max (230V)
011060 IntelliFlo I2 - 2.00 HP Max (230V)
011012 IntelliFlo VF - 3.00 HP Max (230V)
011057 IntelliFlo VS+SVRS - 3.00 HP Max (230V)
011055 IntelliFlo 2VST - 3.00 HP Max (230V)
011012 IntelliFloXF - 3.00 HP Max (230V)

Three Phase - Fixed Speed Motor
Contact Us About This Product
Similar Products
Products similar or related: