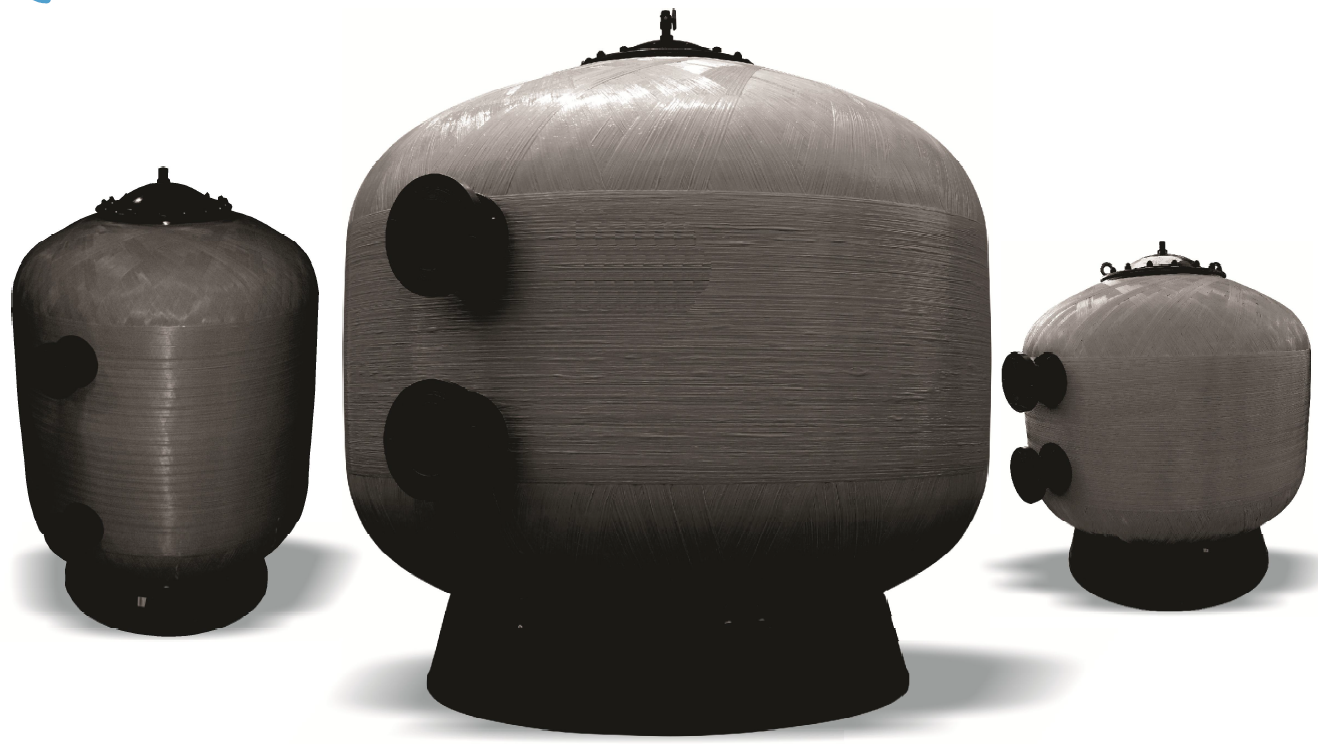 Poltank Filters
Product Description
Poltank filters are manufactured using CNC controlled filament winding equipment. The tanks are constructed with a dual laminate process consisting of a non-continuous strand and roving inner structure combined with a filament wound outer structure. The tanks superior construction is resistant to fatigue associated with operation cycling, corrosion and scaling and will provide decades of reliable service. Poltank filters are NSF50 approved.
Tanks are available in 19 different vertical configurations and 27 different horizontal models, there's a filter suited for every commercial application.
Poltank vertical filters are offered in a deep bed configuration offering a industry leading 48″ media depth. This media depth coupled with our WAPOTEC system offers advanced filtration.
Filters are available with side access hatches, media view windows, acutated valves, single lever linkage (for backwashing) and a range of other options.  Contact our office for help sizing your Poltank filter!
Shallow Bed Models:
42" Diameter (9.26 sq.ft)
47" Diameter (12.16 sq. ft)
Standard & Deep Bed Models
42" Diameter (9.26 sq.ft)
47" Diameter (12.16 sq. ft)
55" Diameter (16.58 sq. ft)
63" Diameter (21.64 sq. ft)
71" Diameter (27.34 sq. ft)
79" Diameter (33.80 sq. ft)
86" Diameter (40.30 sq. ft) - standard bed only
93" Diameter (46.72 sq. ft)
Horizontal Models:
34" Tank Diameter: 13.5 Ft², 15.3 Ft², 17.5 Ft², 19.3 Ft², 23.7 Ft²
42" Tank Diameter: 15.7 Ft², 17.5 Ft², 20 Ft², 22.5 Ft², 25 Ft², 27.5 Ft², 31 Ft², 36 Ft², 41 Ft², 46 Ft²
48" Tank Diameter: 24 Ft², 29 Ft², 34 Ft², 38 Ft², 44 Ft², 48 Ft², 52 Ft²
63" Tank Diameter: 32 Ft², 37 Ft², 41 Ft², 46 Ft², 51 Ft²
Contact Us About This Product
Similar Products
Products similar or related: