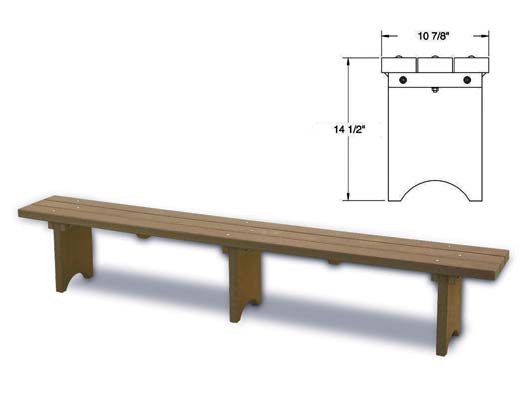 Plastic Bench
Nordesco Products
Nordesco Industries is a Canadian manufacturer of commercial grade swimming pool accessories. Their line includes deck equipment, aquatic fitness supplies and pool toys. They have been designing and manufacturing pool equipment for the past 20-years, concentrating on the commercial institutional market.
Product Description
Entirely crafted from recycled materials, with stainless steel hardware, this plastic bench is both solid and durable; in fact, it's almost indestructible! Its durability makes it a perfect choice for the pool deck or the change rooms. It is not as wide, nor as high as our Wide Plastic Bench however it can accommodate adults, but it was initially designed specifically for young children. The six-foot bench is usually in stock; other lengths require two-week delivery time. Some assembly is required.
This product comes with a 10-year warranty. Available ONLY in lengths shown below, no custom lengths available.
Dimensions: 10 7/8″ wide x 14 1/2″ high
Product Codes
68.1405 Plastic Bench 5FT
68.1406 Plastic Bench 6FT
68.1407 Plastic Bench 7FT
68.1408 Plastic Bench 8FT
68.1409 Plastic Bench 9FT
68.1410 Plastic Bench 10FT
68.1411 Plastic Bench 11FT
68.1412 Plastic Bench 12FT
Contact Us About This Product
Similar Products
Products similar or related: