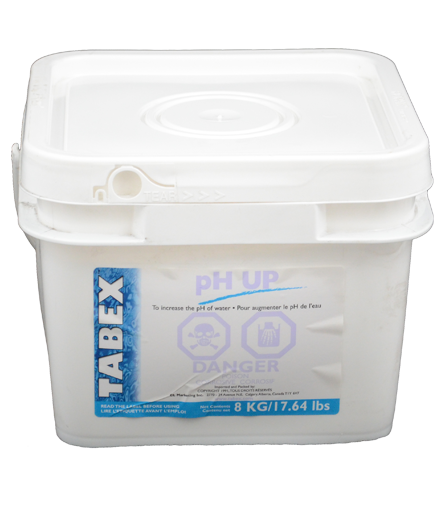 pH Up
Tabex Products
Tabex offers a wide range of quality disinfection products, balance and specialty chemicals. Tabex Chemicals are manufatured in Canada and are widely used by operators in municipal, institutional, hotel and condominium facilities.
Product Description
pH Up effectively raises pH in swimming pool and whirlpool water. The chemical name of the product is Sodium Carbonate.
Application
pH Up is best administered to the water with the use of a chemical metering pump c/w an automatic water flush controller. Note:  Maintaining swimming pool/whirlpool water at a pH of 7.2 is an essential part of maximizing chlorine effectiveness and preventing water chemistry problems.
Sizes
1 Kg, 2 Kg, 8 Kg
Contact Us About This Product
Similar Products
Products similar or related: