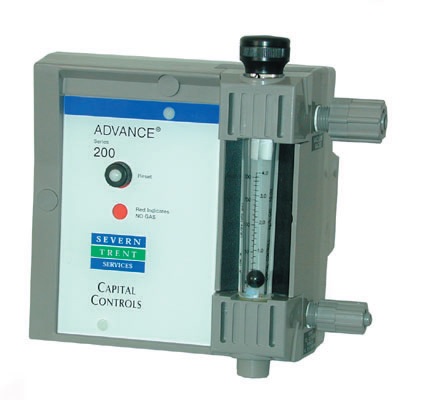 Capital Controls Gas Chlorinators
Product Description
The Series 200 gas feeder system consists of vacuum regulator(s), an automatic switchover module, flowmeters (with rate valve) and ejectors. Multiple flowmeters/ejectors may run off a single or dual regulator setup.
The regulators use a safe integral venting system and have feed capacities up to 500 PPD. Cylinder, ton container and manifold mounting options are available.
We have a specific Evaluator(tm) maintenance program to keep your gas chlorinators running without failure and downtime.
Product Codes
VR100C-RV: Vac Regulator with adjustable rate valve
VR100C-NRV: Vac Regulator, no rate valve
*Specify Regulator Capacity: 0.6, 1.5, 4, 10, 25, 50, 100 ppd
AS100C: Automatic Switchover (100 ppd max)
RMXXXC: Remote Flowmeter with adjustable rate valve
*Specify Capacity
EJ100 Ejector
EJ17 Anti-Siphon Ejector
Flow rates over 100 ppd are available on request
Contact Us About This Product
Similar Products
Products similar or related: