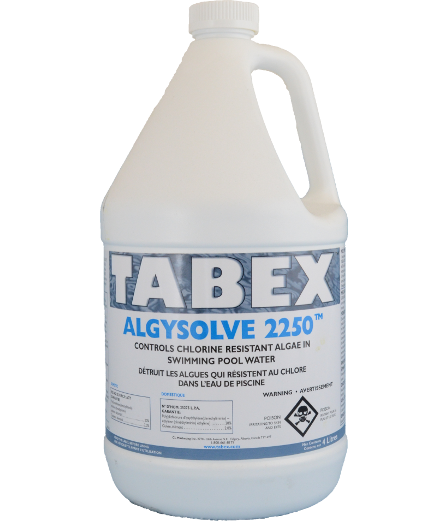 Algysolve 2250
Tabex Products
Tabex offers a wide range of quality disinfection products, balance and specialty chemicals. Tabex Chemicals are manufatured in Canada and are widely used by operators in municipal, institutional, hotel and condominium facilities.
Product Description
Algysolve 2250 is our high performance preventative algaecide.  Think of it as an insurance policy against time consuming and unslightly algae growth.
Application
Add an initial dosage for a freshly filled pool and add a small amount once per week for maintenance.
Initial fill: 80 ml/10,000L
Weekly maintenance: 40 ml/10,000L
Sizes
4 L
Contact Us About This Product
Similar Products
Products similar or related: