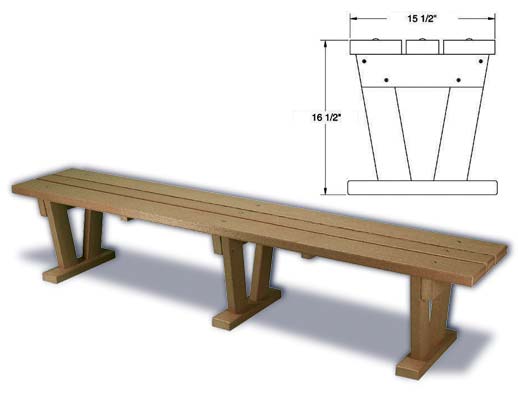 Wide Plastic Bench
Nordesco Products
Nordesco Industries is a Canadian manufacturer of commercial grade swimming pool accessories. Their line includes deck equipment, aquatic fitness supplies and pool toys. They have been designing and manufacturing pool equipment for the past 20-years, concentrating on the commercial institutional market.
Product Description
This bench has known increasing popularity over the years, thanks to its dependable design and unfailing sturdiness. It is made entirely out of recycled materials, with stainless steel hardware, and will prove its usefulness either on the pool deck or in the change rooms, no one will be disappointed! It is available in several standard lengths, the six-foot bench is usually in stock; other lengths require two-week delivery time. Some assembly is required.
This product comes with a 10-year warranty. Custom lengths available from 2' to 12'.
Dimensions: 15 1/2" wide x 16 1/2" high
Product Codes
68.1502 Wide Plastic Bench 2FT
68.1503 Wide Plastic Bench 3FT
68.1504 Wide Plastic Bench 4FT
68.1505 Wide Plastic Bench 5FT
68.1506 Wide Plastic Bench 6FT
68.1507 Wide Plastic Bench 7FT
68.1508 Wide Plastic Bench 8FT
68.1509 Wide Plastic Bench 9FT
68.1510 Wide Plastic Bench 10FT
68.1511 Wide Plastic Bench 11FT
68.1512 Wide Plastic Bench 12FT
Contact Us About This Product
Similar Products
Products similar or related: