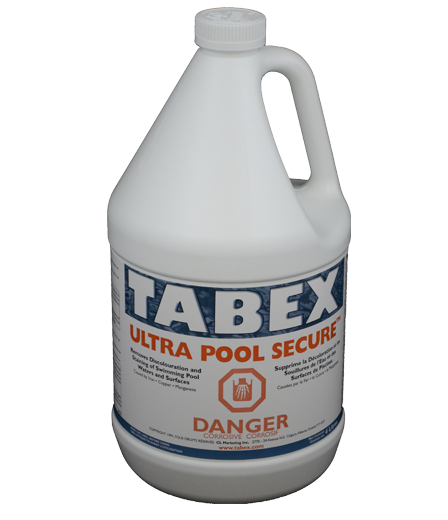 Ultra Pool Secure
Tabex Products
Tabex offers a wide range of quality disinfection products, balance and specialty chemicals. Tabex Chemicals are manufatured in Canada and are widely used by operators in municipal, institutional, hotel and condominium facilities.
Product Description
Ultra Pool Secure is our most concentrated and fastest acting product for removing existing metal stains.
Application
To remove existing staining, add 200 ml Ultra Pool Secure/10,000 L pool water.  This dosage should be added directly over the staining. Maintenance dose: 50 ml Pool Secure / 10,000 L Pool Water Weekly.  This product can also be added with a low dosage metering pump.  Please call our sales team for more info.
Sizes
4 L, 200 L
Contact Us About This Product
Similar Products
Products similar or related: