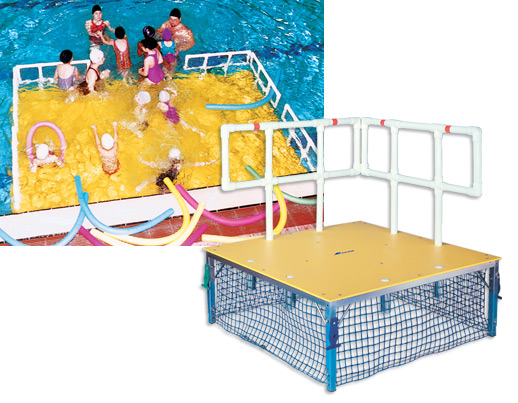 Teaching Platform
Nordesco Products
Nordesco Industries is a Canadian manufacturer of commercial grade swimming pool accessories. Their line includes deck equipment, aquatic fitness supplies and pool toys. They have been designing and manufacturing pool equipment for the past 20-years, concentrating on the commercial institutional market.
Product Description
Innovative, durable, and most important, safe, are the three perfect words one can use to describe the teaching platform. Our teaching platform was designed with instructors to meet the needs of aquatic professionals. We are proud to say that this product surpasses all that is on the market today. With features that promote safety, stability, and versatility.
This 4ft x 4ft teaching platform has a large surface area. The legs height can be adjusted to 16″, 18″, 20″ or 22″, which increases the accessibility of deeper pools as well as diversify the programs available for swimmers. For increased security the teaching platform is equipped with a plastic protective grill reducing the risk of anyone swimming under the platform and getting stuck. It is made from a 100% stainless steel frame and plastic top allowing for frequent use over the years to come.
One teaching platform consists of the following:
4 Ft x 4Ft with 2 white PVC rails included.
Weight: 80 lbs
Product Codes
60.6100 Teaching platform
Contact Us About This Product
Similar Products
Products similar or related: