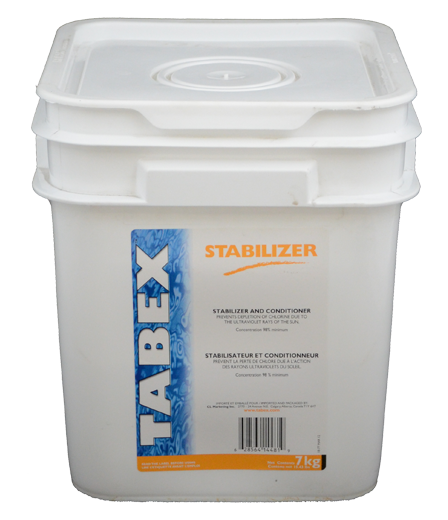 Stabilizer
Tabex Products
Tabex offers a wide range of quality disinfection products, balance and specialty chemicals. Tabex Chemicals are manufatured in Canada and are widely used by operators in municipal, institutional, hotel and condominium facilities.
Product Description
UV light from the sun will make quick work of the free chlorine in your outdoor pool water unless it is stabilized. Tabex Stabilizer is 100% isocyanuric acid (CYA), and when maintained at a level of 20-30 mg/L of water in an outdoor facility, it will effectively reduce chlorine consumption due to sunlight, while still allowing chlorine to be an effective disinfectant.
Application
Initial Dosage:  Add 300 g of Tabex Stabilizer per 10,000 L of pool water.  This will provide 30 mg/L of Cyanuric Acid. Note:  This product is slow-dissolving and may take several days to dissolve completely. For quicker dissolving stabilizer options, see our Liquid Instant Pool Conditioner and Quick Dissolve Stabilizer.
Sizes
7 Kg, 50 kg
Contact Us About This Product
Similar Products
Products similar or related: