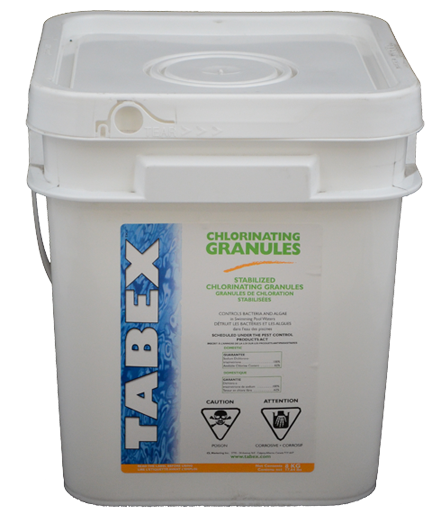 Stabilized Granular Chlorine
Tabex Products
Tabex offers a wide range of quality disinfection products, balance and specialty chemicals. Tabex Chemicals are manufatured in Canada and are widely used by operators in municipal, institutional, hotel and condominium facilities.
Product Description
Stabilized Chlorine Granules are designed to be used in outdoor applications.  The Alberta Health Act prohibits the use of stabilized chlorine products in public/semi-public swimming pools.
Application
The product is granulated Sodium dichlor-s-triazinetrione with 62% available chlorine It is stabilized to resist the chlorine consumption resulting from the sun's ultraviolet rays.
Sizes
8 kg, 18 kg
Contact Us About This Product
Similar Products
Products similar or related: